About Global Laminates
Focused on offering the industry's best prices and service in the Printed Circuit Board (PCB) and plastics industry since 1990.
Global Laminates
 was founded in Haverhill, MA in 1990 with a long background in copper-clad laminate distribution serving the North American PCB industry. Global Laminates has since focused on supplying fewer products that are harder to find and offering the industry's best prices and supply.
Our staff is knowledgeable on the products we sell, from the various laminates, drill room supplies, and can even advise your engineers on manufacturing techniques, performance limits, and standards.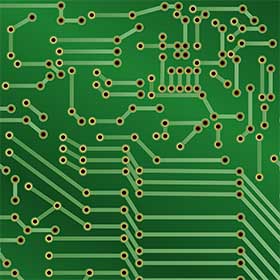 In January of 2015, Global Laminates moved to its new warehouse and offices in Portsmouth, NH.
 We continue to ship throughout North America either same day or next day.
Global Laminates is a unique supplier of specialty products in both the industrial plastics and Printed Circuit Board industries. Our 20 year history brings base material intelligence and distributor know-how to support your laminate requirements both technically and logistically. Global has focused its product lines towards harder-to-find dielectrics and supporting products such as unclad FR4 sheets from .010″ – .500″ and "Dummy" laminates to be used in process evaluations. We also carry Cu foils, specialty drill backer and entry products for your fabricating needs.
Please use this site to see what products we can help you with and, as always, we are available by phone and email from 7 a.m. – 5 p.m. Eastern Standard Time, Monday through Friday.